Preparing Your Daughter for Her First Gynecology Exam
Most women remember their first trip to the gynecologist. Maybe you felt embarrassed, confused, or awkward. Fortunately, it will not be that way for your daughter if her appointment is with Dr. Quartell & Associates. Every parent wants the best for their daughter, so of course you know that annual gynecological exams are important to your daughter's health. Many parents make the assumption that their daughter is too young to begin visiting a gynecologist, but recommends a first visit between the ages of 13 and 15
Now that your daughter is around that age, you might be ready to make her an appointment for her first gynecological exam. Making the appointment is the easy part, but perhaps you are unsure of how to talk to her about the importance of seeing a gynecologist. While this may be a difficult conversation to have with your daughter, it is an important one. At the office of Dr. Anthony Quartell & Associates, we strive to make the process as comfortable as possible, and are here to guide you with some tips for preparing her. Honesty, privacy, and an open dialogue are vital to preparing your daughter for a successful gynecological visit.
Honesty is extremely important when preparing your daughter for her first gynecology exam. Talk to her about your first exam. Explain to her exactly what will go on during the exam so that she is prepared for what is going to happen. Check out our last blog, First Gynecology Visit: What to Expect where we detail exactly what will go down in the office.
Also be honest with your daughter about why it is time for her to start getting annual gynecological exams. Whether it is because she is sexually active or may soon be sexually active, or she is having problems with her period; it is important to make sure everything is healthy. Explain to her that her doctor will answer any questions she has, even questions she may feel awkward or uncomfortable talking to you about.
Give Her Some Privacy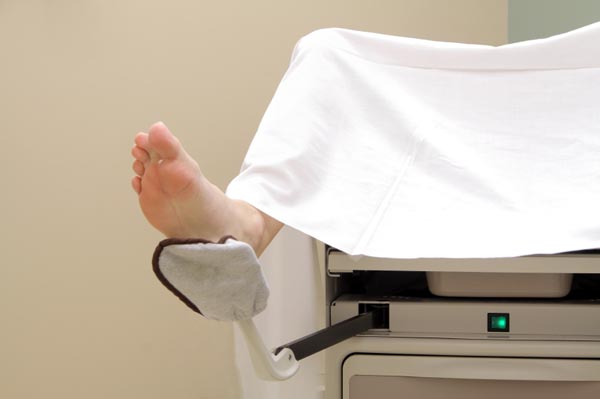 Image via SheKnows
Of course you want to know every little thing that is going on in your daughter's life, but that may not be what your daughter wants. As much as we like to think that our children will tell us if they are sexually active or if they are experiencing any discomfort during sex, your daughter might feel more comfortable talking about it in private with her doctor.
If you truly want the best for your daughter's health, consider letting her go into the appointment by herself so that she doesn't have to worry about you listening in. Explain to her that you respect her privacy and simply want to make sure she is healthy. Clarify to her that everything she tells her gynecologist will be kept between her and her doctor. When the patient is completely honest, the doctor can best assess the patient's health.
Keep an Open Dialogue After the Exam
When the exam is finished, talk to your daughter about her experience. Allow her to debrief and fill you in on as much detail, or little, that she feels comfortable sharing with you. Don't make her feel like women's health is a taboo topic; invite the conversation. This is a great opportunity to answer any questions she may have had about the exam, as well as to determine if her gynecologist was a good fit for her. Utilize this experience to ensure to your daughter that you are someone she can confide in if she ever has any questions about women's health or her sexual health.
Also, make sure she has the contact information for her doctor, should she ever want to personally reach out rather than going through you. Don't take it personally, but sometimes young women just don't want to ask these personal questions to a parent.
Call Dr. Anthony Quartell and Associates to make an appointment today, and keep up with our blog for updates.