First Gynecology Visit: What to Expect
Most women visit the gynecologist for the first time between 13 and 18 years old. Some wait until they are sexually active but there is no need to wait. The sooner you start regular exams, the better. Do not wait until you are experiencing symptoms or problems.
Getting to Know Each Other

Image via American Heart Association
Since this is your first visit, you and your doctor have to get to know each other. Other than where you go to school and your favorite activities, your doctor will ask a few personal questions in order to provide you with the best care possible.
Whether it is through paperwork or face-to-face, here are some standard information your gynecologist will ask from you:
• Your sexual history
• Your health history
• Family health history
• Last period; whether they are regular or not
It is important to be completely honest with your doctor so that he/she can provide you with the best care possible. The questioning process is a two-way street, so don't be afraid to ask your doctor any questions you may have. Prepare a list before you come in.
One main reason teens schedule a visit with a gynecologist is to discuss birth control options. Make sure you get the most information from your doctor on the types of birth control as well as deciding on the best method for yourself.
Breast Exam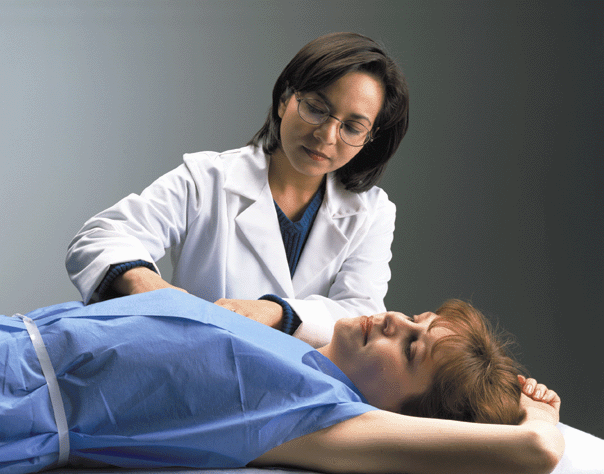 Image via Imaginis
If you are a teenager, a breast exam may not be performed. Most teens do not need breast exams because breast problems are rare at that age. It is important to tell your doctor if you are experiencing any pain or are suspicious of any lumps. But don't panic, breast cancer is rare in teens. Any lumps you feel may be a normal part of the breast growth process.
During a breast exam, you will be asked to lie back with your shirt removed. Your doctor will press lightly on different parts of the breasts, checking for cysts or other abnormalities.
Pelvic Exams

Image via UCSB
Pelvic exams are performed in order for your doctor to detect any signs of illness in the female organs. There isn't really anything to do in order to prepare for your exam. You can expect a little discomfort but shouldn't feel any pain.
In order to make sure you are completely comfortable, your doctor may ask if you would like to use the bathroom. Additionally, your doctor will be talking you through each part of the exam to make sure you are completely comfortable at all times.
You will be asked to remove your clothes (in private) and given a gown or paper covering. Your doctor will press down on areas of the lower stomach to feel the organs from the outside.
Next, you will be asked to slide to the end of the table, placing your feet in holders called stirrups. This is when the speculum exam is performed, in which your doctor inserts a device that widens the vagina in order to get a better view of the cervix.
If you are over the age of 21 years old, a pap smear will be performed. Your doctor will use a plastic spatula to brush the inside of the cervix in order to retrieve a small cell sample. This is a test that aids in detecting cancers of the reproductive organs. If you have any abnormal pap smear results, your doctor call you to set up another appointment.
A bimanual exam is the last step, in which your doctor places two fingers inside the vagina and uses the other hand to press gently on various areas to note changes in size or shape.
STD testing
Most sexually transmitted diseases (STDs) do not have symptoms, so you may not know if you are infected. For this reason, it is important to be tested regularly and what better time to do so than annual check-ups with your gynecologist.
If this is your first visit and you are sexually active, a test may be recommended but STD testing is usually something that you would have to ask your doctor to perform. Basic tests are generally performed on blood or urine samples, since those methods detect types of STDs.
If there are any suspicions from those tests, your doctor will call you in for further testing.